In the ever-evolving world of e-commerce, access to accurate and relevant product data is crucial for businesses to stay competitive.
Whether you're a small online retailer or a large-scale marketplace, having the ability to scrape and analyze product information from Target can provide valuable insights and a competitive edge.
In this blog post, I will explore the top picks for the best Target product data scrapers, equipping you with the knowledge to make an informed decision for your data extraction needs. So, let's dive into it.
What is the Best Target Product Data Scraper?
Here are the top picks for the best Target product data scrapers.
The Bright Data company is a leading provider of proxy solutions and data collection tools in the market. Their Target product data scraper offers a comprehensive solution for businesses seeking accurate and reliable data extraction.
Comprehensively. Moreover, Bright Data's IDE integrates with their industry-leading proxy networks, making it easier to unlock sites that would ordinarily be challenging to scrape.
It's also fully compliant with industry best practices and privacy regulations, meaning you can be confident about the legality of your operations.
With their user-friendly interface and powerful features, Bright Data enables businesses to scrape Target. Finally, with Bright Data's customer support team available 24×7, you can be sure that any problems or questions you have will be promptly addressed.
Apify is a versatile web scraping platform that provides an intuitive and robust solution for scraping Target product data. A platform for data extraction and robotic process automation (RPA) needs.
Apify allows you to leverage the full potential of the web and its rich data, which is the largest source of information ever created by humankind.
Whether you need to crawl millions of websites and extract data for market research or automate manual workflows and processes on the web, the platform provides a one-stop shop for all your web scraping needs.
With its friendly user interface and versatile browser automation tools like Crawlee, Apify enables data-driven teams to easily develop, deploy, and monitor their web scraping and automation tools.
Besides, Apify offers a large pool of datacenter and residential proxies for reliable and efficient web scraping and smart IP address rotation with human-like browser fingerprints.
It also supports storing structured data or binary files, exporting datasets in CSV, JSON, Excel, or other formats, and integrating with hundreds of apps through ready-made integrations or webhooks.
Oxylabs is another prominent player in the web scraping industry. It offers a reliable and efficient Target product data scraper. With its powerful Scraper APIs, you can easily extract the required data without worrying about getting blocked.
Its AI-powered proxy solution ensures block-free scraping. Also, offers fast and reliable proxies for cost-effective scraping. So Oxylabs is the perfect choice for traffic-intensive scraping via UDP connection.
Besides, it provides a combined power of Datacenter and Residential IPs for maximum flexibility. Oxylabs also offers a free Chrome proxy manager extension with any proxy provider and a free Android proxy manager app with any proxy provider.
It also rotates your Datacenter Proxies to help increase success rates. Oxylabs offers scalable SERP data delivery from major search engines, enterprise-level data from the largest e-commerce marketplaces, and real-time data from popular real estate websites.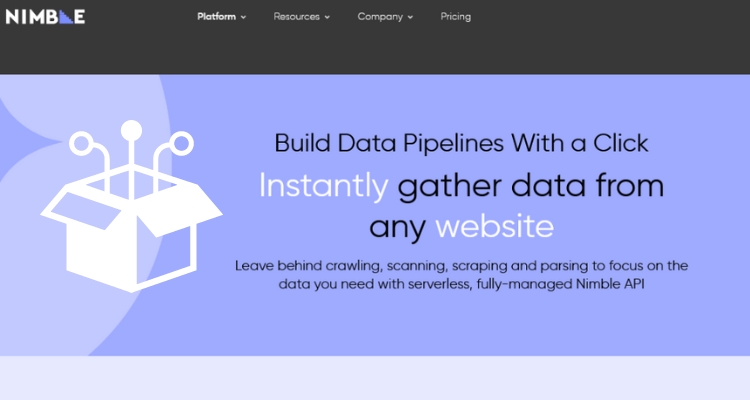 Nimbleway specializes in providing customized web scraping solutions, including a powerful Target product data scraper. Its scraper is designed to meet specific business requirements, enabling users to precisely extract the desired product information.
Nimbleway's scraper offers scheduling, data validation, and data transformation. Thus, it empowers businesses to derive valuable insights from Target's vast product catalog.
From cloud-based scraping to IP rotation to Dropbox integration, Nimbleway has everything you need to make web scraping a breeze. Not only is Nimbleway easy to use, but it's also efficient and effective.
Compared to other web scrapers, Nimbleway is faster and less resource-intensive, allowing you to scrape more data in less time. And because it's constantly updated and improved, you can be confident that your data will always be accurate and up-to-date.
SmartProxy is a reliable proxy service provider offering a user-friendly Target product data scraper. Their scraper allows businesses to extract product information quickly and efficiently.
SmartProxy's rotating proxies ensure high success rates and prevent IP blocking, making the data extraction process seamless. With its easy-to-use platform and various features, SmartProxy makes scraping a breeze, even for those with little to no coding experience.
SmartProxy offers access to the data center and residential proxies, allowing you to choose between dedicated addresses or a large pool of shared rotating proxies.
Plus, their no-code scraper allows you to collect data without any programming experience using templates or a user-friendly browser extension.
With its comprehensive documentation and excellent customer support, SmartProxy is a popular choice among businesses seeking a hassle-free Target product data scraping solution.
Summary
In the era of data-driven decision-making, having access to accurate and up-to-date product data is essential for businesses operating in the e-commerce space.
The five Target product data scrapers mentioned above stand out as top contenders for automating and streamlining the data extraction process from Target's website.
Whether you're looking for a robust proxy network, a versatile scraping platform, or a customized solution tailored to your specific needs, these scrapers have covered you.
When selecting the best Target product data scraper for your business, it's important to consider factors such as ease of use, data accuracy, scalability, and customer support.
However, remember your specific requirements and the volume of data you need to extract. Each of the mentioned scrapers offers unique features and strengths, catering to different business needs.